"
Soon I shall pass to final rest. My key is in place. Through my spiritual link to the others, I know where their bodies lie. I shall leave this knowledge, that their last location in the dark world can be known. May this knowledge lead our warriors to the Sky Temple Keys.
"

—A-Kul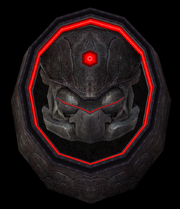 Before dying of her wounds, A-Kul of the Luminoth left a number of Clues as to the location of nine Keys required to access the heart of the Ing: the Sky Temple. These clues were placed on pillars around the Sky Temple Gateway and gave the names of the other Luminoth Keybearers with hints as to the locations of their bodies, so that a strong warrior could resume their quest. Samus Aran can scan Luminoth busts on the Gateway's pillars to access the clues, which are stored in her Logbook. After each Key has been placed, a new, empowering message can be found when re-scanning the pillars.
Notably, A-Kul's Clues are more vague about the location of Sky Temple Keys than when scanning Datapacs found on the bodies of the Keybearers. Ultimately, all nine Keys are found within Flying Ing Caches in the Dark Aether counterparts of the rooms where each Keybearer died.
Trivia
[
]