"
As for the voice actress, we weren't necessarily looking for technique, but rather someone who could express herself using her own words. Natural voice tones seem to fit Samus's character, rather than a technically-created voice tone. Samus is not very good at living with other people. She doesn't talk much. Her personality is told through background and exposition, so by instructing the voice actress not to chatter idly, this was very close to what we were looking for. We had to find a balance between these two emotions. It was extremely difficult.
"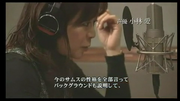 Ai Kobayashi (小林愛, Kobayashi Ai?) (born May 25, 1973) is a Japanese voice actress. She provided the voice of Samus Aran in the Japanese version of Metroid: Other M.
Other M marked Kobayashi's debut as a video game voiceover artist, as was the case with Samus's English actress, Jessica Martin. She was first confirmed as Samus's voice actress in a developer feature released on the Japanese Nintendo Channel on Wii. The feature showed a clip of Kobayashi recording her lines, as well as a shot of some of her lines.
Community content is available under
CC-BY-SA
unless otherwise noted.