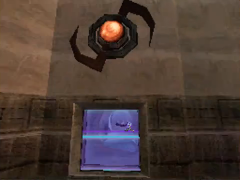 Alimbic insignia refers to several icons used by the Alimbics to commemorate important milestones in their history. There are three items in Metroid Prime Hunters that can be scanned as objects to learn about them: the Alimbic Insignia, the Alimbic Crest and the Alimbic Emblem. The former two are identical, consisting of a large, dark bronze disk set in a larger disk, adorned with a glowing orange center and two tapering offshoots angling in opposite directions. The Alimbic Emblem does not have the tapering offshoots.
All of these objects are located on Arcterra. The Alimbic Emblem is mounted on the wall as well of the Arcterra Gateway, and can be seen as Samus descends or ascends the room. Samus finds the Alimbic Insignia mounted on a wall in the Ice Hive. The Emblem can be found in three rooms; Sic Transit, Frost Labyrinth and Subterranean. After the ancient Alimbics triumphed in repelling the first attack on Alinos, they created the insignia to commemorate the triumphs of their race, the crest to celebrate the accomplishments of a major Alimbic tribe, and the emblem to commemorate fallen Alimbic soldiers.
Alimbic Insignia
Logbook entry
A LARGE CEREMONIAL EMBLEM OF THE ALIMBIC ORDER, CELEBRATING THEIR VICTORIES AND LEADERSHIP. SOLAR-CYCLE COUNTER DATES ITS CREATION AFTER ALINOS FIRST CAME UNDER ATTACK.
Alimbic Crest
Logbook entry
EACH ONE OF THESE ORNATE CRESTS CELEBRATES THE ACCOMPLISHMENTS OF A MAJOR ALIMBIC TRIBE.
Alimbic Emblem
Logbook entry
THIS EMBLEM COMMEMORATES FALLEN ALIMBIC HEROES.
Community content is available under
CC-BY-SA
unless otherwise noted.