"
In the end though, it basically comes down to getting your head down, avoid the shiny distractions, and do the best job you possibly can.
"

—Andy O'Neil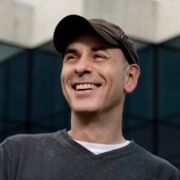 Andrew "Andy" O'Neil (May 27, 1972 - June 10, 2019) was a British-American video game engineer. O'Neil was a lead technical engineer at Retro Studios for Metroid Prime and Metroid Prime 2: Echoes. Prior to its cancellation, either O'Neil or David Kirsch was the lead engineer of Car Combat, another game in development by Retro. O'Neil also assisted in developing a demo of a Revolution (the codename for the Wii) version of Echoes to be shown at the Tokyo Game Show in 2005.
Biography
[
]
Born in Birmingham, England, O'Neil was raised by his father from the age of 10 with no access to a television, but allowed to pursue electronics and computer. He received a Sinclair ZX Spectrum, his first computer, in Christmas 1982. He moved to Austin, Texas in 1999 to pursue a video game career.
O'Neil Previously worked at NMS Software Ltd. (1995-98), Tigon Software (1988-99, contract) and Acclaim Studios Austin (1999-2000). He later founded and served up until his death as vice president of Bluepoint Games[1], an independent studio known for its remasters of Sony games, such as God of War and Shadow of the Colossus.
He was described as a "voracious reader" who would consume a novel in 48 hours, and was a mountain biker and guitar player who played in three bands.
Role on the Prime series

[

]
In Metroid Prime 3: Corruption, he was credited under additional thanks. O'Neil contributed weapon particle effects, player package and collision for the game, but left Retro Studios in 2005, 2 years before the game was released.[2]
O'Neil's work on the Prime series is described as "Player morphball, player movement (normal, screw attack, wall jump etc) & collision detection, player weapons and effects (ice spreader, dark beam, plasma beam), custom creature effects ('Ing Spot'), split screen multiplayer. Particle system, weapon system, defragmenting memory allocator(s), collision detection system, physics system refactor, ARAM management system, CPU and memory optimization, network file system. Static lighting (lightmaps), offline visibility calculation (PVS), particle editor, network connection tool, 'fast script cook', world cooker optimization, automatic loading code generation".
Death
[
]
O'Neil died on June 10, 2019 at his home in Austin, Texas of undisclosed causes.[3] He was 47 years old. His death was reported on June 18 by Bluepoint Games.[4]
External links
[
]
References
[
]