The Arcterra Gateway is a room on Arcterra. It appears in Metroid Prime Hunters, and is the Landing Site for the planet.
Description
[
]
The Gateway is a naturally large and open space, making it an ideal landing place. It is not shielded from the elements, and because of Arcterra's extremely cold weather, the Arcterra Gateway is completely covered in ice and snow. When entering the Arcterra Gateway, Samus Aran's Hunter Gunship lands on a perch high above the exit door. Samus must follow a steep ice path to get to the bottom.
While escaping the planet after getting the first Octolith, a Force Field appears above a pillar preventing access to the upper half of the room, forcing Samus to fight Guardians.
Connecting rooms
[
]
Inhabitants
[
]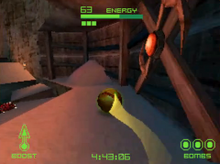 Scans
[
]
ALIMBIC PROPHECY 04

"WITH A VOICE OF THUNDER SHALL THE GREENWOOD BURST INTO AN ORANGE BLAZE."
"EACH ONE OF THESE ORNATE CRESTS CELEBRATES THE ACCOMPLISHMENTS OF A MAJOR ALIMBIC TRIBE."
"THE OUTERMOST PLANET IN THE ALIMBIC CLUSTER. ARCTERRA IS AN INHOSPITABLE WASTELAND NOTEWORTHY FOR A HONEYCOMB OF TUNNELS AND CAVES WITHIN ITS FROZEN INTERIOR."
"HUNTER-CLASS GUNSHIP REGISTERED TO SAMUS ARAN. RETURN TO THIS SHIP TO SAVE YOUR PROGRESS AND TO RECOVER YOUR ENERGY."
The Arcterra Gateway is a playable stage within the game's multiplayer mode. There are few defining features to the level: If a Bounty Hunter falls from the top of the room to the bottom, they will sustain damage upon impact. Use of their Alt-Form will absorb the damage. The Affinity Weapon is the only weapon available on this stage. The Arcterra Gateway stage is unlocked when the room is visited in the story for the first time.
Trivia
[
]
Arcterra Gateway is the only landing site in the Alimbic Cluster to feature hostile bioforms in the same area, including a Guardian trio.
This gateway is the only gateway that features a way to receive both energy and ammo pickups via crates located at the bottom of the area.
With the Alimbic Crests and the Alimbic head statue, this is the only gateway that celebrates the Alimbics beyond an engraved symbol.
Lastly, the Arcterra Gateway is the only gateway which does not position the small symbol which projects an Alimbic Prophecy datashade directly over the exit door.
During the first encounter, a glitch can occur that causes one of the two Geemers (located halfway up the trail) to crawl up a wall, then suddenly slowly float away.