The Battleground is a room in the Dark Agon Wastes in Metroid Prime 2: Echoes. The room contains a Dark Temple Key within a Safe Zone in the middle of the room. When Samus first enters this Safe Zone, a Warrior Ing steals the Key. Samus combats it and 5 other Warrior Ing to acquire the Key.
There are invisible platforms that can be accessed from the upper ledge that lead across the top of the room. They are visible with the Dark Visor.
The room's Light Aetherian equivalent is Central Mining Station.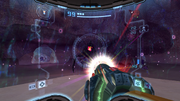 This is the only room in the game with two temple keys, the Sky and the Dark Temple Keys.

This may be the origin for the name "Battleground", as whenever Samus enters the room, Warrior Ing appear, probably to defend both of the keys.

The room is also the location of the only encounter with Ing Webtraps.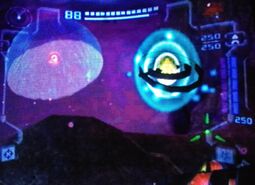 Community content is available under
CC-BY-SA
unless otherwise noted.