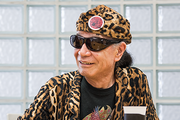 Benimaru "Ashura" Itoh (伊藤「アシュラ」紅丸?) is a Japanese illustrator, designer and musician who works for HAL Laboratory. He worked for Creatures, Inc. from 1999-2002. Itoh illustrated the Star Fox and Super Metroid comics that were serialized in Nintendo Power in 1993 and 1994 respectively, and a Japan only manga based on Mother 2.
Itoh was the art director of the cancelled EarthBound 64, which later evolved into Lucas's game Mother 3. He is still working for HAL as of 2015, with some of his recent work including Pokémon games. He is best known for his signature leopard print attire.
External links
Edit
Community content is available under
CC-BY-SA
unless otherwise noted.