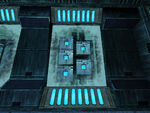 The bioweaponry chambers are related objects found in the Bioweaponry Lab on the Vesper Defense Outpost, in Metroid Prime Hunters. All are scannable, and were designed by the Alimbics for use in bioweapon production. However, some of the objects have fallen into disrepair since the eradication of the Alimbic species. All of these objects can be scanned by Samus for her Logbook. They all appear as blue colored, wall-mounted devices and are powered through connections to a Fuel Rod positioned in the center of the room.
The Mixing Tanks are used to create artificial poisonous gases. By the time Samus visits the Bioweaponry Lab, the gases have dissipated, but the Scan Visor still detects minute traces of toxic material. The Spore Farm is a controlled environment used to propagate toxic spores, although by the time Samus finds it the spores have died out. The Clone Engine may have been used for cloning micro-organisms such as the aforementioned spores, but the microcircuitry in the engine has malfunctioned and it is no longer functional. Finally, the Lab Equipment was used to grow bioweapons, but has fallen into disrepair as well.
Logbook entries
Edit
Mixing Tanks
Logbook entry
Used to synthesize poisonous gases. Trace amounts of toxic materials detected.
Fuel Rod
Logbook entry
Powers nearby bioweaponry chambers.
Spore Farm
Logbook entry
A controlled environment used to grow toxic spores. The spores have expired.
Clone Engine
Logbook entry
Severe deterioration of microcircuitry detected. Systems nonfunctional.
Lab Equipment
Logbook entry
Used to grow bioweaponry. Systems inoperative.
Community content is available under
CC-BY-SA
unless otherwise noted.