"What's the matter? All I said was that Komaytos look like little Metr—"

---
Non-canon warning
:
This article or section contains information that may not be considered an official part of the
Metroid series
in the overall storyline by
Nintendo
.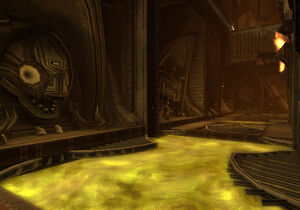 The Bryyo Gods are not referred to in Metroid Prime 3: Corruption, but the story behind them was the basis for the busts seen in the Imperial Hall. Retro Studios artist Matt Manchester created their story, as well as the room itself.
Although some of his notes did make it into the game as scans, the notes related to this subject did not:
---
"From the sleeping chaos awoke the high god. It was he, the Antecedent, the propagator of the genesis, and the eternal body in the sky. In the beginning of creation, the life giving sun created its first child, Bryyo. Upon it's surface it poured a vast ocean in which the beginnings of life could thrive. The high god then laid down to resume his eternal sleep. From his body, the 23 keeper gods sprang forth as the watchers and caretakers of the world. Within the expansive waters, the children of Bryyo were born. In their primitive forms, they wandered the currents for eons, becoming masters of the deep. The gods watched this burgeoning life from atop their holy island, where the eternal flames burned within the Garden of Light. When the Reptilicus had dominion of the oceans, the gods granted them access into the divine province, to be one as them, and partake of their knowledge. Given new forms to walk upon the land, they dwelt within the garden for a time. After bestowing their wisdom to the mortal sons of Bryyo, the pantheon ascended to live upon the sun. All departed the celestial first son but one god, Thalyys, who remained as the keeper of the Garden of Light and watcher of the mortals. Arkithun crafted for the gods the City of Glass, wherein the vital light of the high god's form could eternally penetrate. It was after this that he bestowed the knowledge and gift of architecture to the curious reptilicus, to forge for themselves a civilization. The oceans sank, and the land spread out from the divine island in all directions. The great migration occurred, and the kingdoms and cities spread throughout the world. Having long departed their primordial territory, the Garden still remains at apex of the lands highest mountain, abandoned by all but Thalyys, who tends to it eternally."
References
[
]