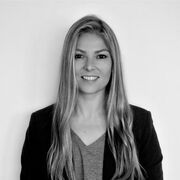 Canela Rodal is a localization producer at Nintendo of Europe. She joined the company in 2011 as a proofreader of Spanish software, hardware and artwork, becoming producer in 2017. Rodal has recently provided voice acting for some games as well, including Game & Wario, Mario Sports: Superstars and Metroid Prime: Federation Force, presumably the Messaging phrases in the latter. She was later a localization producer on the NOE side for Metroid: Samus Returns.
In addition to English and Spanish, Rodal is fluent in French, German, Italian, Galician and Portuguese. Outside of localization work, she has a passion for photography.
Add this
Community content is available under
CC-BY-SA
unless otherwise noted.