Celestial Gateway is a room on the Celestial Archives. It appears in Metroid Prime Hunters. It serves as the Hunter Gunship's Landing Site for the archives.
This room is the first room Samus will enter in the game. There are two elevators: one on the left, and one on the right. Also, there is an underground tunnel to get through with the Morph Ball.
Connecting rooms
[
]
Items
[
]
Samus must destroy the Green Force Field under her gunship with the Battlehammer to be able to access a chamber underneath with the expansion, and then use a jump pad to get back up.
Scans
[
]
"HUNTER-CLASS GUNSHIP REGISTERED TO SAMUS ARAN.
RETURN TO THIS SHIP TO SAVE YOUR PROGRESS AND TO RECOVER YOUR ENERGY."
"THIS SPACE STATION, IN ORBIT DIRECTLY ABOVE ALINOS, IS THE PRIMARY REPOSITORY OF THE COMBINED KNOWLEDGE OF ALIMBIC SCHOLARS, SCIENTISTS, AND HISTORIANS."
"IT IS WRITTEN THAT THE ALIMBIC POWER SHALL MATERIALIZE WHEN SIX FREQUENCIES SHIMMER IN THE DIVINE SPECTRAL SEQUENCE."
"ANALYSIS INDICATES THE FORCE FIELD IS IMPERVIOUS TO MOST WEAPONS. A HEAVY-DUTY WEAPON MAY DAMAGE ITS GUARD NODE."
"TELEPORTATION DEVICE ONLINE. STEP INTO THE PORTAL TO WARP TO ANOTHER LOCATION."
Tutorial
[
]
"ACTIVATE SCAN VISOR
Tap and hold the button centered at the bottom of the touch screen to activate the SCAN VISOR."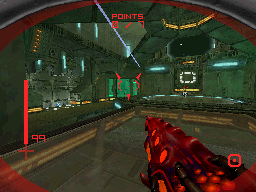 The Celestial Gateway is also a playable stage in the game's multiplayer mode, unlocked by visiting the room in the single player mode. During the story, Samus would have to use an elevator to reach the upper part, but in the multiplayer she or other Bounty Hunters make use of the portals at the bottom.
Use of the Imperialist to snipe here is not the best idea for hunters, as there are few areas where the hunter can snipe opponents but not be ambushed from behind.
Gallery
[
]