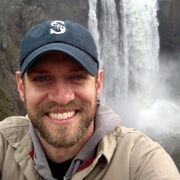 Christian Campbell, or Chris Campbell is a former marketing staff lead at Nintendo of America, where he worked from 1997-2004. Campbell served as a liaison between NOA's Treehouse division and its marketing and PR departments, providing all marketing, advertising and promotional assets for games.
He is credited under special thanks in Metroid Prime and Metroid Prime 2: Echoes, and was additionally involved with public relations for those games. The SPC F. Triplette character in Echoes was originally named SPC C. Campbell in a preview trailer. He was likely named after Campbell.
Campbell is also credited under special thanks in Excitebike 64, Banjo-Tooie and Star Fox Adventures, and had involvement in the production of Donkey Kong 64, Perfect Dark, F-Zero GX and The Legend of Zelda: Twilight Princess.
He is currently the creative director at Big Fish Games, which he joined in 2007; becoming director in 2012. Campbell worked at Mobliss between his tenure at Nintendo and Big Fish.
External links
Edit
Community content is available under
CC-BY-SA
unless otherwise noted.