"
The first game I ever did was Metroid Prime 3: Corruption. Gandrayda, and I got to see - they had a little bit of the action already, which normally you don't get to see that. They showed me, she like, hops on your facemask and you're trying to shake her off, so that was kind of cool to find a way to get into that character.
"

—Claire Hamilton
"
Claire was fantastic. Claire was born to belt out video game death screams!
"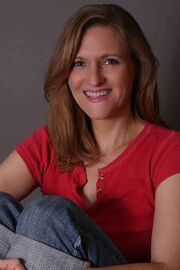 Claire Hamilton is an American voice actress based in Austin, Texas. She began working in 1990, after previously being a teacher and development officer. Hamilton is the voice of Gandrayda and the Female Fleet Troopers (including the Lab Assistant) in Metroid Prime 3: Corruption.[1] She recorded her lines at her agency, dB Talent.
Hamilton is a fan of Pikmin.
Shuten Doji: The Star Hand Kid 1 - Hyoki
Maps densetsu no fukkatsu
Iczer gal: Iczelion
Kotetsu no daiboken
Tekken: The Motion Picture
Senkaiden Hôshin engi
Community content is available under
CC-BY-SA
unless otherwise noted.