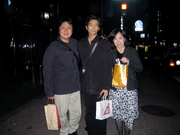 Clark Wen is a freelance audio director and sound designer. Wen owns a sound services company called Exile Sound, which he founded in 2015. He worked as the audio lead at Retro Studios for both Metroid Prime and Metroid Prime 2: Echoes. Wen directed the overall vision of the two games and developed the technology for the sound engine, while creating a large amount of the in-game sounds and managing a team of audio contractors.[1] Having grown dissatisfied with Austin, Texas (where Retro is headquartered), Wen hired Scott Petersen as is replacement for Metroid Prime 3: Corruption.[1] Since leaving Retro, Wen worked on the sound of the Call of Duty and Guitar Hero games at at Neversoft Entertainment and Infinity Ward, before founding Exile Sound.
Kenji Yamamoto stated that Wen and Scott Petersen were his "best [email] friends" during the development of the Prime series, due to the extensive email exchanges and conference calls they shared.[2] It was only after Wen left Retro that he met Yamamoto in person in Japan.[1] Wen and Petersen were nominees at the 2004 NAVGTR Awards in the category of Sound Effects for their work on Echoes.
Wen was interviewed by Metroid fansite Shinesparkers in 2018.[1]
Comments about Wen
Edit
"
I have rarely met a more dedicated and hard working developer. Clark developed the entire audio package for our product and worked insane hours to get it "just right". He welcomed feedback, actively sought it in fact, and never settled for "good enough". He is a priceless asset and a dedicated craftsman.
"
"
I think that Clark Wen (Lead Sound Designer for Prime 1) did an amazing job of staying true to the 2D Metroid franchise while establishing a new and compelling aesthetic for the 3D Metroid Prime. The game really hit all the right notes from every discipline.
"
External links
Edit
References
Edit