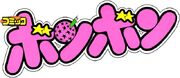 Comic BomBom (コミックボンボン, Komikku Bonbon?) was a monthly Japanese manga magazine published by Kodansha, which ran from October 1981-December 2007. Targeted at elementary school boys, each issue had over 700 pages, with at least 80 of them featuring full-color advertisements. The comic featured many manga tie-ins with video game and toy companies until its later years, when it began to have less of them.
Two Metroid manga were publicized in Comic BomBom, Samus and Joey, Metroid EX (both written by Idzuki Kouji) and Metroid Prime: Episode of Aether. In addition, a one-off chapter of Samus and Joey based on Metroid Fusion was published as well. Samus and Joey was later collected into a tankobon, although EX and Episode of Aether were not. Another series called Famiken Ryu featured a Metroid plot in two chapters of its third tankobon volume.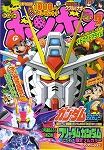 Samus and Joey and Metroid EX were published from 2002-2005 and featured original stories, while Episode of Aether was based on Metroid Prime 2: Echoes, released from July 2005-January 2006, more than a year after the game's release. As the magazine was Japan only, none of these stories have been officially translated. The Metroid Database, a major Metroid fansite, released scanned and unofficially translated versions of both manga on their website from 2011-2015.
Gallery
[
]
External links
[
]