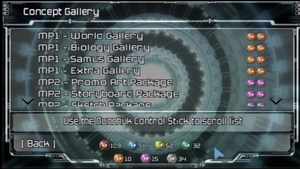 The Concept Gallery is a feature in New Play Control! Metroid Prime, New Play Control! Metroid Prime 2: Echoes, Metroid Prime 3: Corruption and Metroid Prime Trilogy. Similar Gallery features appeared in the original Nintendo GameCube versions of the former two, and as unlockable extras in Metroid Fusion (Japanese version only), Metroid: Zero Mission, Metroid: Other M and Metroid: Samus Returns. The Concept Gallery is where collections of artwork for each game can be purchased and viewed.
All artwork in the Prime series games can be seen here, here and here.
Main article: Gallery
Community content is available under
CC-BY-SA
unless otherwise noted.