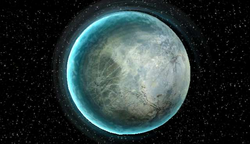 The Dasha region is an area of space within the bounds of the Galactic Federation. The rogue planet Aether belongs in the Dasha region; in a sense, so does its twin, Dark Aether, which was eventually destroyed.
It was here that the GFMC Task Force Herakles' G.F.S. Tyr had chased a Space Pirate Frigate, causing it to crash-land on Aether.
Real-world etymology
[
]
Dashā is a planetary period in Indian astrology. The dasha pattern shows which planets will be ruling at particular times in Jyotisha.