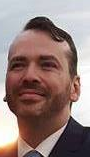 David Caussèque is a localizer and French translator at Nintendo of Europe. Caussèque has worked with them since the late 2000s, with the first game he worked on being Super Mario Galaxy. Caussèque assisted with the European localization of Metroid Prime: Federation Force and Blast Ball, and provided voice acting for the Messaging system as well. He also voiced characters in Mario Sports: Superstars.
Community content is available under
CC-BY-SA
unless otherwise noted.