"Looks like a pile of rags..."
---
This article or section is in need of one or more images, or the image(s) used is/are not of a satisfactory quality.
You can help Wikitroid by adding a preexisting image or by uploading a new one.

"Multiple mutations will cause a Metroid to grow into an even larger and more powerful adversary."
---
Please help improve this article or section by expanding it.
Much more information can be added to this article.

The Duelling Range is a room in the Dark Agon Wastes. It appears in Metroid Prime 2: Echoes. The room shares a lot of similarities with its light counterpart, the Mining Plaza. There are still various ledges and an indestructible barrier blocking access to a Portal. The Portal can be accessed by coming from Dark Transit Station. Here, Samus battles her first Warrior Ing.
Connecting rooms
[
]
Inhabitants
[
]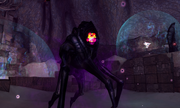 First visit
[
]
Second visit
[
]
Scans
[
]