The Elder Passage is a room on Alinos. It appears in Metroid Prime Hunters. There is a multiplayer level based on it.
Description
[
]
This is the place where Samus first properly battles Spire, although he escapes back to the High Ground before Samus can defeat him. It consists of two levels. The first level has an Attameter Artifact that is collected after Samus repels Spire. The second level has a Stronghold Portal and a regular Portal which takes Samus back to her Gunship. There are entry doors on both levels. The second level has a hole leading to the first level.
Connecting rooms
[
]
Inhabitants
[
]
Spire (on first visit only)
Dialanche (Spire's Alternate Form, on first visit only)
Voldrum (on first visit only)
Items
[
]
Samus must destroy the two EnemySpawners and all the Voldrums. Then she must repel Spire. After scanning an orange switch, the Shield Key appears. The Attameter Artifact is nearby.
Scans
[
]
Portal

"TELEPORTATION DEVICE ONLINE. STEP INTO THE PORTAL TO WARP TO ANOTHER LOCATION."
Stronghold Portal

"THREE ARTIFACTS ARE NECESSARY TO RESTORE FUNCTIONALITY."
Switch

SHIELD KEY HAS BEEN ACTIVATED."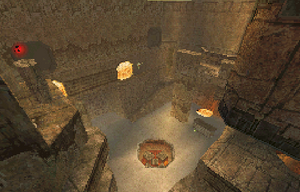 The Elder Passage also appears in the game's multiplayer mode as a playable stage. It is an ideal map for Trace, since the open room offers multiple sniper nests for him, or other Bounty Hunters wielding the Imperialist. The passage extends into what is known as the High Ground room in the campaign.
Weavel has a tactical advantage on this stage, since he can stand on a ledge in Halfturret form and fire; the Halfturret will automatically aim at other hunters. The tight corridors of the Elder Passage provide an advantage for Judicator users (such as Noxus), since Judicator shots can bounce off of walls and freeze Octolith carriers in their tracks.
Elder Passage is not a default stage, and 18 local matches must be played to unlock it.