"Space Pirate encrypted data decoded."
---
The subject of this article is not named in-game.
The current title is from the game's internal data.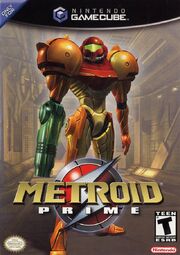 The Event Jingle[1] is a short tune used in the Prime series, as well as Metroid: Samus Returns.
This jingle plays when removing a Missile Door Lock (Metroid Prime) or upon successful completion of a puzzle, such as defeating the Plated Beetle, laying a Bomb at Flaahgra's base, the Magmoor Workstation Energy Tank puzzle, or when successfully opening Bryyo Lore Locks.
In Metroid Prime Pinball, a similar jingle is heard when an item is acquired.
A variation plays in Metroid Prime Hunters when a Blast Shield is opened or a puzzle is completed. A shorter flourish is also heard every time Samus removes a Force Field. The Hunters trivia quiz uses the jingle when a correct guess is made.
In Samus Returns, it plays in a cutscene after Samus kills the first Alpha Metroid. When she collects its DNA, a short scene plays of the Surface's Chozo Seal coming online; the Event Jingle plays during it.
The Event Jingle can be heard here.
Community content is available under
CC-BY-SA
unless otherwise noted.