"Space Pirate encrypted data decoded."
---
The subject of this article is not named in-game.
The current title is from the game's internal data.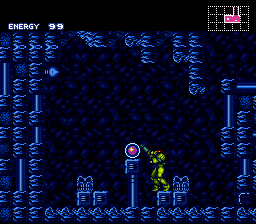 Eye[1] is a security system featured only in Super Metroid. It appears in "old Brinstar", and is used to detect the presence of intruders, such as Samus Aran, and send an alert to the Space Pirates.
It appears in two of the first explored rooms in Brinstar, Corridor No. 1 and the "overhang corridor" with an Energy Tank as well as a new Missile Tank. The security cameras activate when Samus acquires the Morph Ball, which is right in front of the eye. This could suggest that the Morph Ball was stolen by Pirates from either Chozo ruins or Samus herself placed it back where it used to be, with the Pirates later having installed the eye to guard it. When it detects Samus, the eyeball opens and shines a harmless yellow beam on Samus, ringing and flashing until she leaves its sight.
In the overhang corridor, it resides on the hanging structure that partly blocks Samus's progress. It will automatically shine its beam on Samus without her collecting a powerup first. Once the Space Pirates receive the alert that Samus has landed on Zebes, the two eyes will disappear for the rest of the game.
Community content is available under
CC-BY-SA
unless otherwise noted.