"Looks like a pile of rags..."
---
This article or section is in need of one or more images, or the image(s) used is/are not of a satisfactory quality.
You can help Wikitroid by adding a preexisting image or by uploading a new one.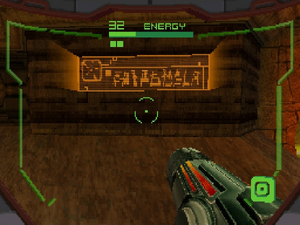 Not to be confused with Fuel Gel flow regulator.
The Flow Regulator is an object in Metroid Prime Hunters, found in the High Ground room on Alinos. It controls the flow of Lava tributaries, and is located in the underground hallway within the room. This is quite near the Magma Drop, a room entirely filled with magma that is accessible from a small hatch in the same corridor.
Logbook entry
Edit
Flow Regulator
Metroid Prime Hunters
Logbook entry
This station controls the flow of lava tributaries.
Community content is available under
CC-BY-SA
unless otherwise noted.