"Looks like a pile of rags..."
---
This article or section is in need of one or more images, or the image(s) used is/are not of a satisfactory quality.
You can help Wikitroid by adding a preexisting image or by uploading a new one.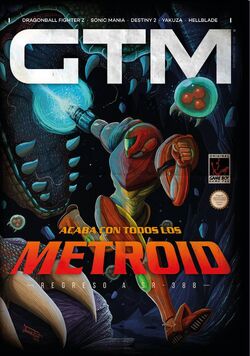 Games Tribune, or GTM is a print and digital-based gaming magazine published in Spain. It is one of two Spanish magazines, alongside Hobby Consolas, to have extensively covered the Madrid-developed Metroid: Samus Returns in their 21st issue published in September 2017. A number of staff from MercurySteam, the primary developer of Samus Returns, have copies of the issue in their own personal collections of memorabilia from the game.
The standard cover of GTM issue 21 was drawn by Jaume Font. An alternate cover, featuring Zero Suit Samus holding her helmet, was drawn by Isabel M. Fernández and offered to those who had a gold subscription to GTM. She has signed and sold this artwork, in addition to another piece with Samus and Zero Suit Samus, at Madrid Games Week.
The October 2021 issue of GTM features Metroid Dread on the cover, with an illustration done by Yue (@Mizukirz on Twitter).[1] The illustration depicts Samus in her new suit, an E.M.M.I., Raven Beak and Quiet Robe, ADAM and Kraid. It also features a Metroid larva, Omega Metroid, Ridley and the Dachoras and Etecoons, who are not confirmed to appear in the game.
Gallery
[
]
External links
[
]
References
[
]