"Chozo script translated."
---
This article's name is an unofficial translation from official Japanese media and may not represent the canonical English name, if one exists.
An alternate name from an official source may be required.

"What's the matter? All I said was that Komaytos look like little Metr—"

---
Non-canon warning
:
This article or section contains information that may not be considered an official part of the
Metroid series
in the overall storyline by
Nintendo
.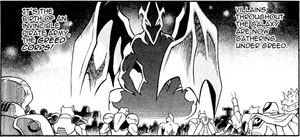 The Greed Corps are an organization of galactic criminals and villains that are a major antagonist in Metroid EX.
At the end of Samus and Joey, Samus Aran was attacked by Greed, who stole several of her most important power-ups. Criminals across the cosmos who loathed Samus gained respect for Greed and gathered together in a crime syndicate with Greed as their leader. They work closely with the Dominion, another enemy of Samus', which provides them with weapons they have curated. Members of the Greed Corps wear the insignia on their bodies, in the shape of Greed's head, with the letter G on it.
A major faction of the Greed Corps was the Deadly Six Stars, a group of six powerful entities that were each given a Data Capsule containing one of Samus' stolen items. Samus pursued Greed to the Extreme Galaxy and killed each of these Stars in deadly, often physics-defying battles that saw her finding unconventional ways to defeat them.
The extent of the Greed Corps beyond the Deadly Six Stars has yet to be seen. They are involved throughout the Extreme Galaxy and cause havoc on the planets there, which are resolved with the death of the respective Deadly Six Star.
Community content is available under
CC-BY-SA
unless otherwise noted.