This article is about the BSL security doors. For other uses, see Green Door (Disambiguation).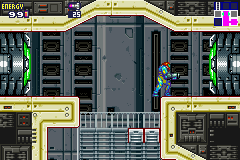 Green Hatches (Security Level 2) can be found throughout the Biologic Space Laboratories research station in Metroid Fusion. They are the green colored doors. To open them, Samus must find the Level 2 Security Station, located on the left side of Sector 3. Once Samus has unlocked the doors, she can freely pass through them like normal doors by shooting them.
Dialogue
[
]
Adam: "Thankfully, the X have not invaded this area yet... The Data Room here is sealed by another security hatch. In order to download, you must find the Security Room here and activate Level 2 hatches. This may allow the SA-X and X parasites into the area... But we are left with no choice. Your recovery is our main goal. The Data Room is here. As I explained, Security Rooms can't be shown on the map. Be careful, Samus. You will see very violent organisms here. And avoid the ultra-heated areas: your suit can't take such high temperatures yet, but we're working on it. Level 2 hatches are green. Release the lock and proceed to the Data Room for download. Super Missile data is ready. Your firepower will triple."
"First, activate green hatches. Then go to the Data Room. There are no ultra-heated areas on this route, so turn back if you enter one."
Objective: "Locate Security Room and activate green hatches."
"Security Level 2 unlocked. Green hatches now active."
"Green hatches now active. Proceed to Data Room."
Adam: "I see that you encountered a rogue Security Robot. You may destroy it if you meet it again. Your safety is vital. But as to your brief... Level 2 security locks are released, so Sectors 5 and 6 are open. That means those sectors have likely been infiltrated by X."