"Looks like a pile of rags..."
---
This article or section is in need of one or more images, or the image(s) used is/are not of a satisfactory quality.
You can help Wikitroid by adding a preexisting image or by uploading a new one.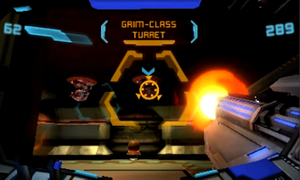 Grim-Class Turrets are security turrets in Metroid Prime: Federation Force. They are found in the power station on Talvania and the Doomseye. Unlike turrets in previous games of the Prime series, Grim-Class Turrets can attach to the floor in addition to the ceiling. They are spawned by the Generator as a defense mechanism.
They appear in M03: Smokestack (the Generator mission), M11: Uplink, M17: Infestation, M19: Incursion, M21: The Core, and are summoned by Master Brain in M22: Convergence. Sometimes the turrets will appear from nowhere before attacking the Federation Force, whereas other turrets are stationed prior to their encounters.
Community content is available under
CC-BY-SA
unless otherwise noted.