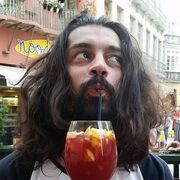 Guillaume Deschamps is a French quality assurance tester and translator at Nintendo of Europe. Deschamps has worked there since the late 2000s, with his first game tested being Mario Kart Wii. He tested the French language versions of Metroid: Other M and Xenoblade Chronicles 2, and has tested other games, including Donkey Kong Country Returns and Fire Emblem Echoes: Shadows of Valentia. In addition to QA, Deschamps was one of several people who provided voice data for Metroid Prime: Federation Force, and he is credited under special thanks in Tank Troopers. Outside of Nintendo, Deschamps is the vocalist and guitar player in a band called Shallow Mist.
Community content is available under
CC-BY-SA
unless otherwise noted.