"Multiple mutations will cause a Metroid to grow into an even larger and more powerful adversary."
---
Please help improve this article or section by expanding it.
Much more information can be added to this article.

The Hazing Cliff is a room in the Ing Hive. It appears in Metroid Prime 2: Echoes. It is a small, simple hallway that has a large drop on the right, from which a Dark Tallon Metroid arises. Samus can continue on to find the end of the hallway, which has a Missile Expansion blocked off by two Dark Diligence Drones.
The Aether version of this room is Agon Transport Access.
Connecting rooms
[
]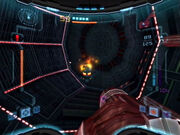 Inhabitants
[
]
"Morphology: Dark Tallon Metroid
Darkling-possessed energy parasite.
Symbiote makes target stronger in battle. Vulnerable to concussive blasts. Dislikes bright light."
"Mechanism: Dark "Diligence" Drone
Darkling-possessed maintenance unit.
Unit gains strength from Ing symbiote. A high-powered burst of light energy can damage it."
Items
[
]
Behind the Dark Diligence Drone on the far side of the room.
Trivia
[
]
This room features the only Dark Tallon Metroid found in the Ing Hive, as well as the only Dark Diligence Drones.