High Ground is a room on the planet Alinos. It appears in Metroid Prime Hunters.
Description
[
]
High Ground has four main sections: the underground tunnels, the main floor, the 2nd floor, and the top floor. The entrance is in the underground tunnels. High Ground is also the first place that Samus meets Spire. Upon defeating Spire, a force field will block the only underground holes leaving the portal to be the only access point to High Ground until the first Octolith is taken.
This room seems to serve as a sort of cemetery for Alimbics, as both the Battle and Science Sarcophagi and Interment Chamber are found in it.
Connecting rooms
[
]
Inhabitants
[
]
Items
[
]
Next to the shaft directly below the entrance to Alimbic Gardens.
After chasing Spire back into High Ground, Samus must defeat him in order to obtain the Shield Key. The artifact is next to the Purple Force Field blocking the way to Combat Hall.
Scans
[
]
"TRANSDUCES VOLCANIC HEAT INTO USABLE ENERGY."
"THIS STATION CONTROLS THE FLOW OF LAVA TRIBUTARIES."
"RELIEVES PRESSURE BUILDUP FROM THE UNSTABLE PLANETARY CORE."
"THIS LANGUAGE CANNOT BE TRANSLATED."
Interment Chamber

"ALIMBIC WARRIORS OF VALOR ARE HERE LAID TO REST, THAT THEIR SPIRITS MAY RETURN TO THE PLANETARY CORE."
"THIS TOMB CONTAINS THE REMAINS OF ALIMBIC GENERAL ALMIIAK, WHO LED THE ALIMBIC PEOPLE TO VICTORY IN THE TETRA BORDER WARS TWO THOUSAND YEARS AGO. HE LATER FORMED THE ALIMBIC ORDER OF ELDERS."
"THIS TOMB CONTAINS THE REMAINS OF THE GREAT ARCTHERUS, WHOSE DISCOVERY OF NEUROGENESIS MARKED THE ADVENT OF THE MODERN ALIMBIC ERA, A TIME OF UNPRECEDENTED PEACE AND PROSPERITY."
Alimbic Prophecy 06

"TENDRILS OF BLUE SMOKE SHALL WEAVE THE GEOMETRY OF VIOLET CRYSTAL."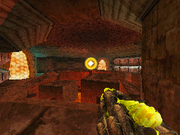 The High Ground is a playable arena in the Hunters multiplayer mode. The stage gives Bounty Hunters, particularly Trace, plenty of areas to jump to and practice their sniping skills with the Imperialist. The main entrance to the underground room that would be accessible in the single player mode is sealed off by a Crash Pillar statue. The tight corridors prove favorable to Trace's Triskelion, who can use it to quickly take out opponents.
Gallery
[
]