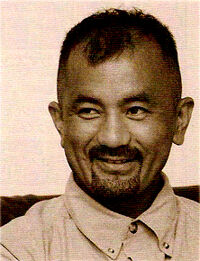 Hiroji Kiyotake (清武 博二, Kiyotake Hiroji?) (born December 21, 1960 in Kagoshima Prefecture, Japan) is a video game graphic designer working for Nintendo. He designed the characters of Wario and Samus Aran, as well as Foreman Spike from Wrecking Crew, and directed Super Mario Land 2: 6 Golden Coins and Wario Land: Super Mario Land 3.
"
At the time, we were just thinking about how we could make it an enjoyable game.
"

—Hiroji Kiyotake
In the original Metroid, he is credited as Kiyotake. He was the first Nintendo designer to sign onto the project, despite his inexperience with Famicom hardware. At one point during development, Kiyotake questioned why the playable character had to avoid enemies. Many of the movements for Samus that he created were reduced or removed during development.
Kiyotake is the developer who came up with Samus Aran's name (her surname comes from Pelé's birth name, which he thought was Samus Arantes Nascimentos - it is actually Edson Arantes do Nascimento), and conceptualized the Screw Attack. He was overjoyed when the game's development was complete
Kiyotake later directed Metroid II: Return of Samus and was involved with its graphic design as well.[1] He was most recently credited in Super Smash Bros. Melee, Metroid Fusion and Metroid: Zero Mission for the original character design of Samus, and in Metroid: Other M as a concept artist. Whether he is still working for Nintendo is unknown, but he did participate in an interview with Akinori Sao (alongside Yoshio Sakamoto) for the release of the NES Classic Edition in 2016.[2]
Community content is available under
CC-BY-SA
unless otherwise noted.