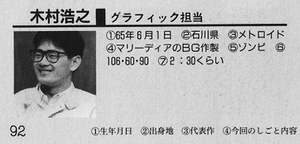 Hiroyuki Kimura (木村 浩之, Kimura Hiroyuki?) (born June 1, 1965 in Ichikawa Prefecture) was the co-director of Metroid II: Return of Samus, and a graphics artist for Super Metroid. He is credited under special thanks in New Play Control! Metroid Prime 2: Dark Echoes as well. His main contribution was in designing the backgrounds of Maridia. In the developer interview within the Japanese Super Metroid strategy guide, he claimed that Samus Aran's measurements were 106-60-90. His Super Metroid clear time is 2:30. Kimura now produces games, primarily spinoffs of the Mario franchise.
Community content is available under
CC-BY-SA
unless otherwise noted.