"Chozo script translated."
---
This article's name is an unofficial translation from official Japanese media and may not represent the canonical English name, if one exists.
An alternate name from an official source may be required.

"What's the matter? All I said was that Komaytos look like little Metr-"

---
Non-canon warning
:
This article or section contains information that may not be considered an official part of the
Metroid series
in the overall storyline by
Nintendo
.
Klaus Schneider (クラウス · シュナイダー, Kurausu Shunaidā?) was the newly-promoted Second Lieutenant of Bravo Team in Metroid Prime: Episode of Aether. He is one of two Federation Marines in said group.
One of four survivors from the Splinter attack (in the game from which the manga is based, Metroid Prime 2: Echoes, there are no survivors), Samus Aran found Klaus being attacked by an Alpha Splinter, and just when it was about to move in for the kill, Samus shot it off of him. This killed the Alpha Splinter, but Klaus, recognizing Samus, urged her to finish it off before the "black fog" came and took it. However, she was too late, and Klaus fled while she killed it.
Klaus then emerged with the other three survivors. Introducing himself to Samus, he claims he commanded properly, and is evidently against Samus' opinion that he was crying and frightened. After these events, it would seem that he has his own case of posttraumatic stress disorder, much like Samus herself. Klaus, Samus and the survivors enter the Generator Room in an attempt to restore power to it, and disagrees with Samus' decision to kill the Dark Troopers that emerge from the non-scarred Marine corpses in the room, convinced that they could have been saved from their Ing possession. Lily Thran disproves his belief.
Lily also encourages Klaus that they need "his abilities," as he is exceptional in simulated combat. Stating that she'd wait for him, she ran after Miguel Luis Garcia, who was going to search for Samus, leaving Klaus behind to sulk about his poor real combat skills. However, he saves them from a Sandigger attack, and helps his team to finish the attackers off with grenades.
Following the previous attack, Samus and team presumably complete the many objectives of the second game until Samus is ready to raid the Dark World stronghold and fight the Emperor Ing. Klaus, along with the other survivors, volunteer to hold off the portal to Dark Aether so Samus can later make her escape. As they battle the hordes of creatures, Klaus is nearly killed by his own landmine. Somehow, he survives, but when Samus returns through the Portal, she finds he and the other survivors have been massacred by large insect-like creatures.
Trivia
[
]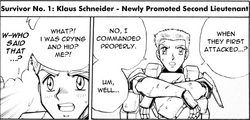 Klaus slightly resembles Corporal Dwayne Hicks from the film Aliens.