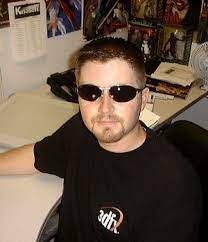 LeRoy Strauss was an environment artist at Retro Studios. He created many rooms for Metroid Prime. His creations include the Phendrana Shorelines, Reactor Core, Main Quarry and the Artifact Temple. Strauss joined Retro before the company's infamous layoffs of half its workforce, and was not involved with any of their canceled projects.[1]
After Prime, Strauss began working on the sequel, Metroid Prime 2: Echoes. He modelled and skinned the new Samus Aran model, Dark Samus, the Federation Marines and the Luminoth, but he left Retro for Edge of Reality before the game's completion.[2] There, he served as the lead character artist for Cipher Complex, and moved on to Vigil Games as an artist for Darksiders and Darksiders II. He is currently the lead character artist at Riot Games.
Strauss gave an interview to Samus.co.uk while Echoes was in development.
One highlight of Strauss's time working at Retro was seeing people play Prime at E3 for the first time, and enjoying it.
Strauss played the original Metroid when it was first released, and took turns playing with his friends, passing the controller back and forth.
He is flattered at Sequence Breaking techniques, and jokingly suggested that such players join Nintendo as quality assurance testers.
Community content is available under
CC-BY-SA
unless otherwise noted.