"
Localization is far more than translation: It should maintain the vision of the original creators while connecting with and exciting users in the local markets.
"

—Leslie Swan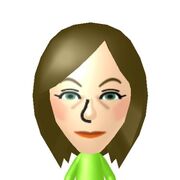 Leslie Swan (born 1970) is a former localization manager and voice actress at Nintendo of America. Swan first joined Nintendo in 1989 as the senior editor of Nintendo Power, where she worked until transferring to NOA proper in 2000.
She is also notable for voicing Peach from the Mario series, beginning in Super Mario 64 and ending in Super Paper Mario. Swan commented that she was asked to sound "sweet" when voicing Peach, which she found to be a "stretch". Her first contribution to Mario was as the copywriter for the Super Mario Adventures comic in Nintendo Power. Swan also provided the voice of Mona and Kat & Ana in the WarioWare and Super Smash Bros. series.
Swan's localization work is extensive and aside from the Mario franchise, includes several Metroid games: Metroid Prime, Metroid Fusion, Metroid: Zero Mission and Metroid: Other M. In addition, she voiced the Bottle Ship P.A. Announcer in the latter game.
Swan left Nintendo in 2016 after working there for over 27 years, serving her last year as director of their live services loyalty program, My Nintendo.
Community content is available under
CC-BY-SA
unless otherwise noted.