The links above provide the lists of rooms for their respective areas in Super Metroid. Any unused, inaccessible, or otherwise special case rooms will be listed below. Any room that has an official proper name or otherwise meets the parameters in the room policy may be eligible for an article of its own.
Queen's nest
[
]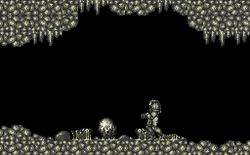 The Queen's nest is a room in Area 8 on SR388. It appears in Metroid II: Return of Samus and the later-released Metroid: Samus Returns. It also appears in a flashback during the introduction of Super Metroid as Samus is recounting the SR-388 incident. The nest as it appears in Super Metroid closely resembles its appearance in Return of Samus. It is depicted as a natural rocky cave with stalactites on the ceiling. Besides the baby's egg, more hatched Metroid Eggs can be seen surrounding it. When it hatches in the flashback, Samus aims her Arm Cannon at it, before lowering it when she realizes it is not a threat. The pair then run off to the left.
Items

• None

Connecting rooms

• None
Unused Norfair room
[
]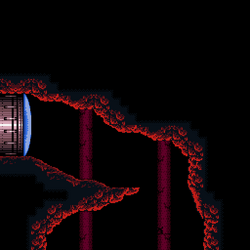 There is an unused, single screen room in Lower Norfair. It appears as a rocky ledge with a drop, though it leads to nowhere, as does the Blue Door next to the ledge. It may have been intended as the start of a larger shaft, but it was unfinished for unknown reasons.[1]
Items

• None

Connecting rooms

• None
Debug room
[
]

There is a 6x2 screen room in the game's internal data, which was likely used by the development team to test the game's tile types. It is normally inaccessible in-game, but SMILE can be used to create doors connecting into the room or spawn Samus directly into the room. Its room ID number is 7E82C.[1]
The room consists of multiple floors, each appearing in midair. These are used to test Pit, Bomb, Fake, Boost and other kinds of blocks, that do and do not regenerate after being destroyed.
Items

• None

Connecting rooms

• None
References
[
]