The Main Reactor is a room in Agon Wastes. It appears in Metroid Prime 2: Echoes.
Description
[
]
The Main Reactor is located in the Space Pirate mining facility on Aether. It is where the Pirates keep most of their Phazon. The Main Reactor is where Samus engages Dark Samus for the first time. Dark Samus is found absorbing the large Phazon crystal in the central Kellium energy reactor when Samus enters the room. During the ensuing battle, four of the surrounding tanks in the room are destroyed by Dark Samus's attacks, leaving patches of burning fire where they once stood.
After the battle, Dark Samus turns into Phazon particles and causes the covers of several tanks in the back of the rupture, exposing the Phazon within. The elevator in the room activates as well. To the left of the remaining tanks is a Spider Ball Track and a dead Luminoth, B-Stl. There is another Spider Ball track to the right of the former one that leads up above the tanks in the back of the room.
The Dark Aether version of this room is the Dark Oasis.
Connecting rooms
[
]
Inhabitants
[
]
Items
[
]
Scans
[
]
Trivia
[
]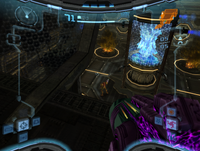 Though it requires precise aiming, it is possible to obtain the Missile Expansion using the Screw Attack.
A glitch may occur in the original GameCube version if Samus enters the window overlooking the Kellium energy reactor very slowly. If done correctly, Samus's movie model is briefly seen before she activates the pre-battle cutscene, creating another Samus in addition to the player.
Another glitch may occur where if Samus triggers the pre-battle cutscene whilst entering through the window from extremely high up (sometimes done with the Screw Attack via Sequence Breaking), Samus will be missing from the pre-battle cutscene.
Gallery
[
]