"Go for it, Samus!! You're our hero!!"
---
The subject of this article was created by Metroid fans.
It is not considered an official Nintendo-licensed part of the Metroid franchise. All story elements are non-canon.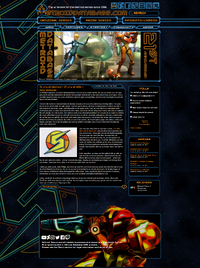 The Metroid Database (MDb) is a fan website created on October 16, 1996[1] to provide detailed information and media for the Metroid series to the web, including various manga and other media translated into English. On October 16, 2017, the site was revamped[1] with the backgrounds being scenery from areas in Super Metroid.
"Recognition" by Nintendo
Edit
In 2002, Metroid Fusion: The Official Nintendo Player's Guide used images from the MDb website for the Super Metroid cover art and possibly the original Metroid, as well. The site watermark is clearly visible on the image of the former, and the same images also appear to be used on Metroid.com's Metroid Fusion website. As this was in the early age of Google, it is likely a mere accident that the MDb's logo is present in the guide. MDb's webmaster, TJ Rappel, was happy that the site was useful to Nintendo and stated that the games were his own copies sitting on his shelf.[2]
External links
Edit
References
Edit