"
As for the Metroid Prime & Metroid Fusion album, I had enough time in my schedule to support the development and studio recording when the record company approached us. I fully supported the CD cover creation as well.
"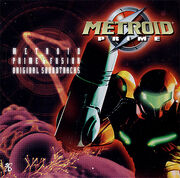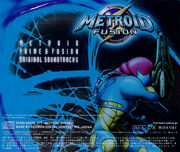 The Metroid Prime & Fusion Original Soundtracks are a two-CD set, each disc containing the soundtrack of Metroid Prime and Metroid Fusion. The album was released only in Japan, on June 18, 2003. The Metroid Prime music was composed by Kenji Yamamoto and Kouichi Kyuma, while the Metroid Fusion music was composed by Minako Hamano and Akira Fujiwara. The album was produced by Scitron, a Japanese record label that produces video game music albums. Its catalog number is SCDC-00276~7. "Metroid Fusion Arranged Version", the first track on the Fusion disc, was arranged by Japanese musician Shinji Hosoe.
Tracklisting
[
]

Warning: Fan Translation(s) Ahead
---
This article, section, or file contains text that is unofficially translated by Metroid fans. Some information (such as proper English names of characters or items) may not be accurate. If an official translation becomes available, the fan translation(s) may be replaced.
Disc 1
[
]
Disc 2
[
]
Missing tracks
[
]
Not all of the music in Prime or Fusion is present on this CD. Below is a list of themes in the games that are omitted, with the Prime tracks using their internal data names:
Metroid Prime:
Metroid Fusion:
QUESTION: Is the sound track for sale? The music was exceptionally great this time so I absolutely would like to get it.
ANSWER: While there are currently no plans for this, the previous soundtrack for Metroid Prime 1 is available at Scitron Digital Contents.[2][3]
Gallery
[
]
External links
[
]
References
[
]