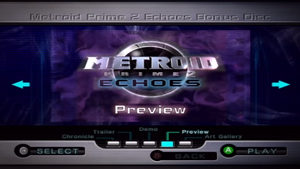 The Metroid Prime 2: Echoes Preview is a trailer that was first shown during E3 2004 and later distributed within the Metroid Prime 2: Echoes Bonus Disc. It should not be confused with the Metroid Prime 2: Echoes Trailer, which is also on the Bonus Disc.
The trailer begins with on-screen text stating that the viewer is "connecting to mainframe" to retrieve Bravo Team's footage from their mission on Aether. Footage taken from the Combat Visor of 1LT K. Deckard (1LT W. Smythe in the final version of Metroid Prime 2: Echoes) is shown, depicting him battling black crawling creatures as they board the G.F.S. Tyr. Mission File 02546 is outlined, detailing how contact with Squad Bravo was lost 30 days before.
Footage from the Visor of SPC C. Campbell (later SPC F. Triplette) shows him firing on the enemy below from atop a cliff, before being overwhelmed. A variation of the Game Over in Echoes is shown, during which Samus Aran can clearly be seen. A contract agreement is then displayed from the Galactic Federation ordering Samus to locate the troopers and render assistance. She is next seen inputting commands on a holographic terminal, which is taken from the Map Station access cutscene in Echoes. The screen flashes more text, confirming that Squad Bravo's last transmission was received from a rogue planet in the Dasha region known as Aether.
It then cuts back to the data feed, revealing data confirmation that the last known transmission for Squad Bravo was received from a rogue planet within the Dasha region called Aether, which is shown on screen for a few seconds before the coordinates are uploaded to Samus. Her Gunship tracks the coordinates 78.67.363 and flies down to the planet. The Title Screen animation is shown alongside gameplay footage of both the story mode and multiplayer mode. Notably, this trailer depicts a black-colored Luminoth that was thought to represent a Darkling Luminoth, but this footage and variant is nowhere to be seen in the final game. The trailer ends with Samus shielding herself from the Dark Sphere's explosion.
The Phazon Mines theme plays during the sequence of events leading up to the flight path being set; after this, the Metroid Prime Battle theme plays for the remainder of the trailer.
Text
[
]
--- CONNECTING TO MAINFRAME ---
RETRIEVING BRAVO TEAM MISSION
FOOTAGE _ (underscore blinks)
--- MISSION FILE 02546 ---
30 DAYS AGO, CONTACT WITH GALACTIC
TROOPER SQUAD BRAVO WAS LOST.
--- CONTRACT AGREEMENT ---
LOCATE FEDERATION TROOPERS AND
RENDER ASSISTANCE.
--- DATA CONFIRMATION ---
LAST TRANSMISSION RECEIVED FROM
A ROGUE PLANET LOCATED IN THE DASHA
REGION CALLED AETHER.
UPLOADING LAST KNOWN COORDINATES _ (underscore blinks)