​​​

Metroid Prime 4 (working title)[3] is a first-person adventure[4] game currently in development for Nintendo Switch. Announced on June 13, 2017 during the Nintendo Spotlight at E3, it will be the fourth main entry in the Prime series. The game's announcement came nearly ten years after the release of its predecessor, Metroid Prime 3: Corruption. Its release date is currently unknown and there are few details about Prime 4 available at this time.
Development
The game was originally developed by a "talented new development team" led by Kensuke Tanabe, the longtime producer of the Prime series. In January of 2019, it was announced through the Nintendo Switch news system that the game's development was not living up to the standards of the series, and so development had been restarted from scratch with Retro Studios working under Tanabe instead.[1] The game's original incarnation was described as "return[ing] to the first-person adventure roots of the original Metroid Prime game and introduc[ing] a new storyline that ties together the events of the Metroid Prime universe and takes the storyline in new directions," though it is unclear whether these plans have changed with the game's development being restructured.[5]
Pre-2017
Speaking to Kotaku in 2009 after the release of Metroid Prime Trilogy, Tanabe hinted at future Prime installments, and the potential to expand upon the multiplayer mode in Metroid Prime 2: Echoes: "We will keep considering multiplayer for the Prime series. For instance, I think I can come up with some unique ideas using the Morph Ball, which is a specific skill of Samus."[6]
While nothing is known yet of the game's plot, Tanabe had revealed some of his ideas for a future Metroid Prime game in an interview regarding Metroid Prime: Federation Force in 2015. Tanabe suggested that a fourth game might be set on a single planet and feature a time-shifting mechanic. In terms of story, Tanabe desired to further explore the background of Sylux, the anti-Galactic Federation Bounty Hunter from Metroid Prime Hunters, who he confirmed was the pilot of the mysterious spacecraft at the end of Corruption: "Personally I'd like to create a story centring[sic] around Sylux and Samus. We've done a story based on the Hunters, and this time around [referring to Metroid Prime: Federation Force] we're doing a story on the Galactic Federation. I would like to cross the two over in the future. And of course see a little more of Samus."[7] Sylux was later seen in the secret ending of Federation Force, forcibly causing a Metroid Egg to hatch.
2017
The game was announced on the same day as Metroid: Samus Returns, which was released on September 15, 2017.
The release date was given by Bill Trinen after E3 as "beyond 2017". VentureBeat initially quoted Charlie Schibetta, Nintendo of America's corporate communications director, saying that Metroid Prime 4 would be released in 2018, before retracting that statement and clarifying he meant "2018 and beyond".[8] An earnings report released by Nintendo on July 26, 2017 listed the game's release date as "TBA", underneath the upcoming Pokémon RPG for Switch, the release date of which was given as "2018 or later".[9]
Persistent rumors in late 2017 suggested that Bandai Namco Entertainment is developing the game with assistance from Nintendo.[10][11]
2018
In February 2018, LinkedIn profiles of personnel from Bandai Namco Studios Singapore surfaced, with many mentioning that they were working on an unannounced, well-known IP exclusively for Switch. The profile of lead designer Shawn Pitman stated he was working on an "Unannounced Game (First Person Shooter/Adventure Exclusive to Nintendo Switch)". Many of these personnel are veterans of the Far Cry series and 007 Legends, and the cancelled Star Wars 1313, all first-person shooter games.[12][13][14] Multiple sources later corroborated the rumor to Eurogamer, although Nintendo declined to comment. Eurogamer later updated the story after hearing that Bandai Namco in Japan, which was assisting with the game's development, is now leading production while the Singapore studio moves onto a different project.[15] Later in February, the profile of a senior online programer at Bandai Namco surfaced, which stated that they were working with the Singapore studio at the main office on "exciting projects". This may indicate that Prime 4 will feature online multiplayer in some capacity.[16][17][18]
Nintendo applied to renew the "Metroid Prime" and "Metroid" trademarks under "downloadable videogame programs" in March 2018.[19][20][21]
Metroid Prime 4 was not shown at E3 2018. Nate Bihldorf and Bill Trinen confirmed that the game is still in development, and they will show it "when we have something we think is going to wow people."[22][23] Reggie Fils-Aime echoed that statement and said the game is "making great progress", while also expressing Nintendo's desire to not torment Metroid fans with repeated teases of the game, which will not be released in 2018. He reiterated that it was announced early to assure fans that Metroid would come to Switch, adding that Nintendo prefers to showcase extended reveals of their games within a timeframe of six-nine months before their release.[24][25][26] Speaking to Mashable in November 2018, Fils-Aime reiterated this point, and revealed that Nintendo has expectations of when Prime 4 will be released.[27]
2019
On January 25, a development update video was released via the Nintendo YouTube channel. In it, Nintendo producer Shinya Takahashi announced that the game's quality was not meeting expectations, and the decision had been made to completely restart development from scratch. According to him, Nintendo felt that Metroid Prime 4 had "not reached the standards we seek in a sequel to the Metroid Prime series", and they decided to "reexamine the development structure itself and change it". This meant that the game's release would be delayed from their original internal planned date. Original series developer Retro Studios is now returning once again under Kensuke Tanabe, while the original developer remains unknown.
The game was a trending topic worldwide on Twitter on that day, and the announcement video was the 11th trending on YouTube. The following Monday, Nintendo shares dropped by 5%, which was attributed by some to the delay announcement for Prime 4.[28] It is also listed last on the two updated earnings report for 2019, whereas previously it was above Bayonetta 3 (which also has an unknown release date).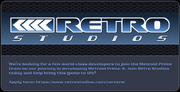 On April 26, Retro Studios announced that they were hiring "a few world-class developers to join the Metroid Prime team on our journey in developing Metroid Prime 4."[29] They are hiring an art director, product tester, art outsourcing manager, level 3 IT engineer, level 1 gameplay engineer, lead external environment artist, lead character and cinematics artists, lead graphics engineer, level 1 and 3 tools engineers and a physics engineer. They were still looking for an art director as of June, but that job listing disappeared in late 2019, suggesting that one had been found.
Tanabe, who was at E3 2019 to promote Luigi's Mansion 3, declined to answer a question about Prime 4 from Eurogamer as he felt it would take away public focus from the former game. He did say that he would be "so ready" to discuss Prime 4 when the time was right.[30]
Retro added additional job postings between August 9 and 29, 2019, including: Senior Material Artist, Senior Designer, Environment Designer, Director of Development, Lead Engineer and IT Manager. Their postings for an Art Director and Lead Cinematics Artist and Graphics Engineer were still open.[31]
On October 29, 2019, it was reported by Video Games Chronicle that Halo veteran Kyle Hefley had been hired as Retro Studios' lead character artist.[32][33] According to Facebook, he began working there on August 30. On November 30, 2019, it was brought to attention that a former narrative designer at Retro, Nicholas Shaw, had identified himself as the lorekeeper of Metroid Prime 4.[34] Ben Johnson and Jennica Derksen were hired as a Tools Engineer and Environment Artist in August and November, respectively.
2020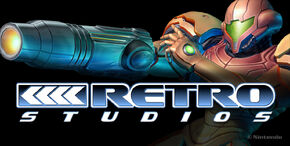 No further direct news for Prime 4 was released in 2020. However, multiple Retro employees were hired in 2020, with some acknowledging they were working on the game. These include industry veterans such as Stephen Dupree (who previously worked at Retro Studios and returned), Taylor Yust, Omar Amador, Jhony Ljungstedt (as Art Director), Mark Capers, James Beech (who left in 2021 and has acknowledged working on the game), Adad Morales, Nicholas Wilson, Bryan Erck, Bharathwaj Nandakumar, Dylan Jobe, Jon Marcella, Ryan Metcalf, Megan Fausti (as writer), Marisa Palumbo and Martin Taramasco. Thomas Robins, a designer for Corruption, acknowledged working on the game on LinkedIn[36] before leaving the studio in March 2020.
Other new developers who have less experience include John Sheblak, Will Fuller, Matt Frank, Austin Angelman, Conrad Buranicz, Koen Wooten, Bianca Benavidez, Cameron Enfinger, May Oakes, Paul Wu, Ryan Kirschman, Taylor Cross, Michael Meador, Sasha Nodia, Rikki-Lynn Vitello, Victor van 't Hek, Nick Ford, Mark McClarin, Katie Anderson in Accounts Payable and Cody McGinley as Senior Recruiter.
In an interview with Video Games Chronicle on July 16, 2020, Tanabe addressed Nintendo's philosophy about developing games that do not ignore casual players while also appealing to hardcore players, saying: "This is also true for games such as those in the Metroid Prime series; games that at first glance look like they are only aimed at core gamers."[37] This comment led to speculation[38] about how tailored Prime 4 would be toward casual players, as opposed to hardcore players.
An interview with Richard Vorodi, the story designer of Metroid Prime Hunters, was published by Shinesparkers on August 6, 2020. When asked about Sylux, a character widely considered to be the likely antagonist in Prime 4, he said: "We have a great backstory written up for Sylux. There's a lot of threaded storytelling in there, that made using the character in other games a good fit. I would love to tell you what's going on under that suit..."[39]
On September 30, Retro opened up a contract storyboard artist position. Days later on October 5, they opened three product testing positions, suggesting the game is now in a playable state.[40] Of note is that one of the duties described in the storyboard artist job listing is to "Help define emotional scenes that will resonate with audiences." This may suggest that Prime 4 will have a larger focus on story, similar to Metroid: Other M. As of December 14, there were five positions still available: Lead Animator, Boss/AI Designer[41], Level 4 Lighting Artist, Lead Lighting Artist and Concept Artist.
During an interview with Polygon published on December 16, 2020, Nintendo of America CEO Doug Bowser was asked for an update on Prime 4, Bayonetta 3 or the sequel to The Legend of Zelda: Breath of the Wild. He said: "You've followed Nintendo long enough to know that as we progress on any title, and we deem it's the right moment, we will share with the community where we are in the development. At this point, though, I have nothing more that I can share on those titles." [42][43]
How the pace of the game's development was impacted by the COVID-19 pandemic is currently unknown.
2021
As of April 11, 2021, there has still been no new information about Metroid Prime 4. On January 20, Sam Tung announced that he had joined Retro Studios as a Storyboard Artist.[44] On February 10th, Retro announced they were still hiring for three Lighting Artist positions - one of them lead, and one of them contract.[45] Three contract Lighting Artists, Jacqueline Bornstein, Josh Slezak and Dylan King, were hired in February and March 2021 respectively, and Chad Orr was hired as Senior Lighting Artist in April. Scott Hafner, Angela Jeong, Eric Lawson, Devlin Arduini and Connor Brandenburger were hired as Environment Artists in January and February. Ezra Donatelli was hired as a QA tester in January. According to longtime employee Sylvia Rowland's LinkedIn profile in June 2021, she is the game's User Interface (UI) artist.
The Concept Artist job from late 2020 was still open as of June 5, 2021.[46] New jobs for contract IT Engineers (Level 1 and 2), a Level 3 Environment Designer[47][48] and Level 2 System Designer[49] were opened up in April, and the Boss/AI Designer and Lead Technology Engineer jobs were removed, suggesting those roles were filled.[50] The Level 1 and 2 IT Engineer roles disappeared in June 2021.

Nintendo's earnings report, released on February 1st, 2021, included a release schedule with no solid date for Bayonetta 3, Prime 4 or "The sequel to The Legend of Zelda: Breath of the Wild", which were listed in that order. The latter two games' names were indicated to be working titles. Thus, it is unlikely that Prime 4 will be released any earlier than in 2022.[51]
At E3 2021, Shinya Takahashi said that Nintendo was currently working hard on the game, but did not show it. He instead introduced Metroid Dread, another long-awaited title in the franchise.
Trivia
The announcement trailer for Bayonetta 3 at the Game Awards on December 7, 2017 was done similarly to the Prime 4 First Look trailer, in that no footage was shown and the game was only stated to be in development for Switch.[52]
An internal Microsoft document from August 2020, released on May 3, 2021 as part of the ongoing Epic Games v. Apple lawsuit, indicates that Microsoft believed Metroid Prime 4 might see release by the end of 2020. The document indicated the release dates of high profile exclusive games on the Nintendo Switch and PlayStation 5, that could compete with sales of Xbox exclusives.[53]
See also
Gallery
References
^ a b Metroid Prime 4 - First Look trailer
^ https://twitter.com/ynakamura56/status/874911934918909953 We interviewed Reggie: Metroid Prime 4 will be "a first-person adventure"
^ Totilo, Stephen (2009-09-21). Metroid Prime Team Discusses Their Decade Of Samus, Ponders Series' Future. Kotaku. Archived from the original on 2010-11-06. Retrieved on 2011-03-23.
^ Phillips, Tom. "Next proper Metroid Prime "would likely now be on NX"", Eurogamer, Gamer Network, June 17, 2015. Retrieved on June 17, 2015.

 

^ https://venturebeat.com/2017/06/21/nintendo-on-keeping-switch-owners-happy-with-mario-and-more/view-all/
^ Rumor: Bandai Namco Developing Metroid Prime 4, Trailer Coming in January Direct. Retrieved on 2017-12-16.
^ Rumor Patrol: Bandai Namco Helping Develop Metroid Prime 4?. Retrieved on 2017-12-16.
^ Metroid Prime 4 in development at Bandai Namco Singapore, Ridge Racer 8 exclusive to Nintendo Switch – report. Retrieved on 2018-02-07.
^ More Evidence That Metroid Prime 4 Is Being Developed By Bandai Namco Has Emerged. Retrieved on 2018-02-07.
^ Metroid Prime 4 might be developed by former LucasArts & Far Cry designers at Bandai Namco Singapore. Retrieved on 2018-02-07.
^ Yes, Bandai Namco is working on Metroid Prime 4. Retrieved on 2018-02-09.
^ https://mynintendonews.com/2018/02/15/rumour-metroid-prime-4-could-have-online-multiplayer-according-to-linkedin-evidence/
^ Kerwin, Darren. "Nintendo Apply For New Metroid and Metroid Prime Trademarks", Shinesparkers, 2018-03-26. Retrieved on 2018-03-26.

 

^ https://www.gameinformer.com/interview/2018/07/01/reggie-fils-aime-sheds-light-on-the-future-of-switch-and-his-progress-in
^ "Is Nintendo Stock a Buy While Metroid Prime 4 Delay Mashes It Down?" Yahoo! Finance https://finance.yahoo.com/news/nintendo-stock-buy-while-metroid-153525697.html
^ Retro Studios (RetroStudios). "Retro Studios is hiring! https://www.retrostudios.com/careers/ @RetroStudios" 26 Apr 2019 11:40 a.m. Tweet. https://twitter.com/RetroStudios/status/1121786253672943616
^ https://www.eurogamer.net/articles/2019-06-18-luigis-mansion-3-developers-talk-cut-ideas-labo-and-birdo
^ https://www.videogameschronicle.com/news/metroid-prime-4-team-secures-artist-behind-halos-spartans/
^ http://www.nintendolife.com/news/2019/10/metroid_prime_4_dev_retro_studios_hires_halo_character_modeller_as_new_lead_artist
^ [Arlo]. (2019, November 30). What the Heck is Going on at Retro Studios? [Video file]. Retrieved from https://youtu.be/u3_AYcpGnwQ?t=1436
^ Retro Studios (RetroStudios). "We are looking for a 𝗟𝗲𝗮𝗱 𝗣𝗿𝗼𝗱𝘂𝗰𝗲𝗿 to join us on our journey to develop Metroid Prime 4! #GameJobs #GameDev #GameDevJobs https://careers.nintendo.com/retro-studios/#jobs" 14 August 2020 1:57 p.m. Tweet. https://twitter.com/RetroStudios/status/1294332258074218497/photo/1
^ Comment section: https://www.nintendolife.com/news/2020/07/series_producer_suggests_metroid_prime_4_wont_ignore_casual_players
^ Interview: Richard Vorodi, Shinesparkers, 2020-08-06. Retrieved on 2020-08-06.
^ Retro Studios (RetroStudios). "We are looking for a 𝗕𝗼𝘀𝘀/ 𝗔𝗜 𝗗𝗲𝘀𝗶𝗴𝗻𝗲𝗿 to join us on our journey to develop Metroid Prime 4! #GameJobs #GameDev #GameDevJobs https://careers.nintendo.com/retro-studios/#jobs" 14 December 2020 2:00 p.m. Tweet. https://twitter.com/RetroStudios/status/1338559406284410883
^ https://www.polygon.com/interviews/22170222/nintendo-doug-bowser-interview-switch-pro-joycon-drift-animal-crossing
^ https://www.nintendolife.com/news/2020/12/nintendo_has_nothing_to_share_about_metroid_prime_4_bayonetta_3_and_zelda_breath_of_the_wild_2_right_now
^ Tung, Sam (stung_art). "Very excited to announce I've joined Retro Studios as a storyboard artist!" 20 January 2021 12:14 p.m. Tweet. https://twitter.com/stung_art/status/1351941146059001856
^ Jobe, Dylan (DylanJobe). "Calling all Lighting Artists! Our lighting team at @RetroStudios is growing and we need more talented lighters! (signal boost appreciated) 😊" 10 February 2021 7:53 p.m. Tweet. https://twitter.com/DylanJobe/status/1359666946535534598
^ Nintendo of America (jobsatnintendo). "We're hiring! Read about our latest job opening here: Concept Artist (Retro Studios) - https://careers.nintendo.com/job-openings/listing/200000004G.html?src=SNS-10380 #Nintendo #IT" 5 March 2021 3:02 p.m. Tweet. https://twitter.com/jobsatnintendo/status/1367928428637286400
^ Jobe, Dylan (DylanJobe). "⭐ Hey... listen! We're looking for a special blend of Game Designer & 3D Artist to join our team at Retro Studios!" 30 April 2021 9:25 p.m. Tweet. https://twitter.com/DylanJobe/status/1388303657213612039
^ Nintendo of America (jobsatnintendo). "Can you recommend anyone for this job in Austin, TX? https://careers.nintendo.com/job-openings/listing/210000001Z.html?src=SNS-10380 #Nintendo #IT" 11 May 2021 12:57 p.m. Tweet. https://twitter.com/jobsatnintendo/status/1392161872187518982
^ Nintendo of America (jobsatnintendo). "We're hiring! Read about our latest job opening here: Level 2 System Designer (Retro Studios) - https://careers.nintendo.com/job-openings/listing/2100000021.html?src=SNS-10380 #Nintendo #IT 15 April 2021 2:47 p.m. Tweet. https://twitter.com/jobsatnintendo/status/1382767427751055360
^ https://www.shacknews.com/article/122489/breath-of-the-wild-2-metroid-prime-4-listed-tba-on-nintendos-latest-release-schedule-updated
^ https://www.polygon.com/2017/12/7/16749668/bayonetta-3-trailer-nintendo-switch-platinum-games-tga-2017
^ Makuch, Eddie. GameSpot. "Xbox Believed Zelda: Breath Of The Wild 2 And Metroid Prime 4 Might Release In 2020" May 5, 2021. Retrieved from https://www.gamespot.com/articles/xbox-believed-zelda-breath-of-the-wild-2-and-metroid-prime-4-might-release-in-2020/1100-6491053/