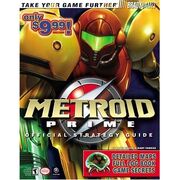 Metroid Prime Official Strategy Guide is a strategy guide for Metroid Prime, published by the American company BradyGames in 2002. The book was written by Doug Walsh and Bart Farkas.
Description
[
]
The introduction features a history on the Metroid series, the Chozo, the Space Pirates and then goes on to page 6, which has acknowledgements from the authors. It is interesting that the page with the introduction has artwork of the Fusion Suit from Metroid Fusion on it. This may simply refer to the fact that the Fusion Suit is unlockable in the game.
The Hunter Basics chapter has information on all of Samus Aran's powerups. This section is similar to that of Metroid Prime and Metroid Fusion: Prima's Official Strategy Guide, but this guide has more laid-out paragraphs than Prima's guide.
From then on it continues into the walkthrough. Summaries of boss battles are in black sections and the end of the guide features complete maps (the guide has parts of the maps in the walkthrough). Oddly, the guide refers to the Metroid Prime core essence as female.
The end of the guide has supplemental information, this including maps, and various appendices showing information on expansions and Logbook data. Appendix Alpha/Beta shows a chalk-drawing of Samus and carries the expansion information. Appendix Gamma features every Pirate Data entry with a holographic image of Samus. Appendix Delta features a stained-glass window-like design of Samus with each Chozo Lore entry. Finally, Appendix Epsilon has each Research entry. It then goes on into an enemy listing (the cover of which features the Ripper amongst other enemies). The final feature of the guide is a page with information on the secrets ingame, complete with a small, text walkthrough of Metroid, included as a bonus in the game.