"
I am finishing up making Metroid Prime 3 for the Wii right now. It is the final installment of the FPS/A series(First Person Shooter/Adventure).

We have it tuned so it is nearly as easy as a Mouse/Key combo with the added benefit of being able to sit on your couch and play. Each developer is probably going to have a different take on it until we decide on the "Best Feeling" solution.

We take it a bit farther than a mouse keyboard can, though. For instance, you can walk up to a handle and using the movement of the controller twist and pull it into position to activate something. Your hand movement mirrors the movement of the Wii controller.

"

—Mike Wikan on Metroid Prime 3: Corruption[1]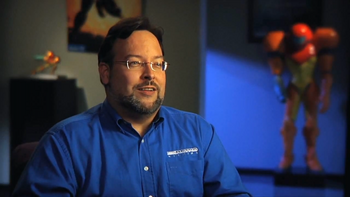 Michael "Mike" Wikan was the Senior Game Designer at Retro Studios. He was the senior designer of Metroid Prime.[1] Wikan appeared in the Developer's Voice feature promoting the Metroid Prime Trilogy. He is currently working for Booz Allen Hamilton and lives near Austin, Texas.
GSGT C. Benet's beta name in Metroid Prime 2: Echoes was M. Wikan, a reference to Wikan.
Wikan first entered into the world of video game development in 1993, when he began work as Concept Artist for n-Space, later moving into the role of Lead Game Designer. He worked there until 1997, when he left and joined Accolade, working as Lead Game Designer, and continued work there until 2000, when he left to join Retro Studios. In 2011, Wikan left Retro Studios to work at id Software. He has since left and is working as the creative director at Booz Allen Hamilton in San Antonio, Texas. He regularly speaks at conferences dealing with innovative and experiential technologies, most recently at xTech in San Francisco, California.
Wikan has described the Prime series as a "labor of love",[2] and said that he was greatly influenced by the Valérian and Laureline comic series while working on Prime.[3] After the original game was released, a fan showed Wikan her Prime tattoo.[4]
Wikan and Kynan Pearson gave interviews to issue 4 of the fan Switch Player Magazine regarding their wishes for Metroid Prime 4.[5] Wikan was pleased when it was announced that Prime 4 was restarting development under Retro, and remarked that at least three designers from the original series still worked there.[6] He also supported film director Jordan Vogt-Roberts' interest in directing a live-action Metroid film.[7]
In 2020, Wikan commented that he thought Star Wars Jedi: Fallen Order heavily reminded him of Corruption.[8]
"
I had the pleasure of working with Mike on Metroid Prime at Retro Studios. Mike is a solid designer who really knows his craft. He is smart, affable, and always willing to go the extra mile to make a game awesome. I recommend Mike as he would be a major asset to any team out there.
"
These are the games Mike Wikan has been credited in:
Wikan preferred the German box art of Echoes over the American version, which he felt was the "least attractive" of what he had seen at the time.[9]
Community content is available under
CC-BY-SA
unless otherwise noted.