"Chozo script translated."
---
This article's name is an unofficial translation from official Japanese media and may not represent the canonical English name, if one exists.
An alternate name from an official source may be required.

"Multiple mutations will cause a Metroid to grow into an even larger and more powerful adversary."
---
Please help improve this article or section by expanding it.
Much more information can be added to this article.
Nintendo Official Guidebook for Metroid Prime 2 Dark Echoes is the official Japanese strategy guide for Metroid Prime 2: Dark Echoes. It was published by Shogakukan on July 7, 2005. The book is 196 pages long, and its ISBN number is ISBN4-09-106241-5. The guide includes a walkthrough of the game, an explanation of Samus's power-ups and the gameplay, a map of both Aether and Dark Aether, a list of Logbook entries and a list of enemies, to help players scan the Logbook completely.
The guide's cover art is taken from the game's Japanese box art, depicting two halves of Samus Aran in her Varia and Dark Suits. It was one of four strategy guides sold for Echoes, with others published by Enterbrain, Daily Communications and Mediaworks.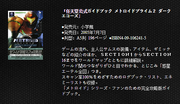 See also
[
]