"Multiple mutations will cause a Metroid to grow into an even larger and more powerful adversary."
---
Please help improve this article or section by expanding it.
Much more information can be added to this article.

"Cannot translate alien text."
---
This article, image or section covers Japanese media that has not yet been fully translated into English.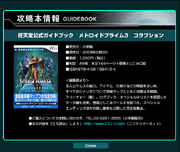 The Nintendo Official Guidebook for Metroid Prime 3 Corruption (任天堂公式ガイドブック, Nintendō Kōshiki Gaidobukku?) is the official Japanese strategy guide for Metroid Prime 3: Corruption. Like the Japanese version of the game's boxart, it features Samus Aran with Ghor, Rundas, and Gandrayda as well as a Space Pirate and Meta Ridley overlooking a planet.
The book covered, among other things, various strategies, log book entries, as well as commentary regarding Samus's abilities various gimmicks and the various maps.
See also
[
]
Gallery
[
]