Nintendo Software Technology Corporation (or NST) is an American video game development company, located within the Nintendo of America headquarters in Redmond, Washington. Founded in 1998, NST was created to develop Nintendo console-exclusive games primarily for the North American market, although its games have been released worldwide as well. The current president of NST is Shigeki Yamashiro.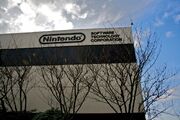 NST developed Metroid Prime Hunters for the Nintendo DS in 2005. Each developer was given a commemorative 3D laser engraved Samus Aran Crystal.
Some of their other games include Wave Race: Blue Storm, 1080° Avalanche and the Mario vs. Donkey Kong series. Nintendo has sent several of their own developers from Japan to work with the staff of NST. Developers at NST have backgrounds from such companies as Rockstar Games, Electronic Arts, and Microsoft.
Throughout the 2000s, NST was in development of a Wii game titled Project H.A.M.M.E.R. Tensions between the American developers and Japanese producers led to the game's cancellation, and NST has not had a major project since. It has been relegated to developing applications for the Nintendo 3DS and is rumored to be shifting gears to develop Nintendo's mobile games. In 2015, an NST insider revealed details regarding Hunters, as well as the cancelled Metroid Dread. The source said that Hunters was originally planned to be a larger single player Prime experience on the DS, but as development became more challenging, the focus shifted to multiplayer and the story mode suffered as a result. It was apparently "thrown together from elements of the multiplayer modes." They also claimed that a working prototype of Dread was shown to NOA staff in secret at E3 2009 and that it had a graphical style extremely similar to Metroid Fusion. While NST had been previously considered as a priority studio in its development, this was ended after the failure of Project H.A.M.M.E.R. The source further stated that NST was so undervalued by Nintendo that they were not told in advance about Metroid Prime: Federation Force, and only learned about it at E3 2015 like the public.[1]
References
Edit
Community content is available under
CC-BY-SA
unless otherwise noted.