"
Remember the tagline for that famous science fiction movie? "In space, no one can hear you scream"? Well, it was a whole different story in the legendary Metroid franchise, since all that gamers could hear were the character's screams. Then came Other M, and Samus started yapping away. I was the lucky translator who got to choose her first words in Spanish.
"

—Pablo Muñoz Sánchez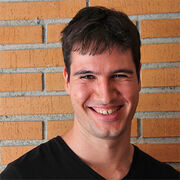 Pablo Muñoz Sánchez is a translator of Spanish to English with a focus on video games and other software. He worked as a translator and QA tester at Nintendo of Europe for two years, during which he translated Metroid Prime Trilogy and Metroid: Other M into Spanish. Currently he is a freelance translator and speaker. Sánchez writes candidly about working on Other M on his website. He joined the translation project very early on, and found it to be a complex effort as the story was constantly being changed and reinvented. To improve the workflow, Sánchez created an Excel macro that simplified the daily updating process for the FIGS (French, Italian, German, Spanish) translators; it became the standard. It took five months for Sánchez to translate the game, and then he "found the energy" to work with the quality assurance testers for a few more months. According to him, "just like when you're playing Metroid, everything looks different once you find the right tools."
Community content is available under
CC-BY-SA
unless otherwise noted.