A Phazon Hopper is a Phazon-mutated creature that appears to be a Hopper.
Description
[
]
Compared to natural Hoppers, Phazon Hoppers are larger, stronger, more resilient to damage, and much more aggressive. Phazon Hoppers have gained purple coloring and a large spike on their backs, along with a hard, crystallized Phazite shell that covers their bodies, granting them better armor than their non-mutated cousins. They also have developed the ability to enter Hypermode; when this happens, every hop they take will produce a small Phazon shockwave.
Phazon Hoppers can be found on the G.F.S. Valhalla and planet Phaaze, in these rooms: Hangar A Access, Security Access, MedLab Alpha, Xenoresearch Lab, Metroid Cavern, Entry Canyon, and Drop Shaft.
Species
[
]
Given the Phazon Hopper's name, appearance, and morphology, it can be reasonably assumed that they are mutated Hoppers. This follows other Phazon-mutated versions of creatures seen throughout Metroid Prime 3: Corruption, such as Phazon Nightbarbs and Phazon Pillbugs. Accordingly, the English version of the game's Logbook directly compares the Phazon Hopper to other Hoppers.
However, Phazon Hoppers bear a remarkable resemblance to Hopping Metroids in appearance and behavior, and both species are spawned from burrow openings. This is not addressed in the English version, and the similar Phazon-induced mutations of Metroids and Hoppers may simply be an instance of convergent evolution. Conversely, in the Japanese version of Metroid Prime 3, Phazon Hoppers are actually referred to as an advanced stage of the Phazon Metroid, with the Hopping Metroids being the intermediate larval stage of a Phazon Hopper.[1] If the above is taken as canon, these mature Phazon Hoppers have their own reproductive system and may be responsible for laying the blue, mutated Metroid Eggs seen in the same game. It may be worth noting that Phazon Hoppers on Phaaze always share their rooms with either Phazon Metroids or Hopping Metroids, which may implicitly support their relationship.
Official data
[
]
Logbook entry (English)
[
]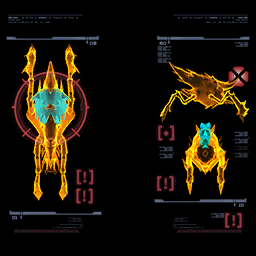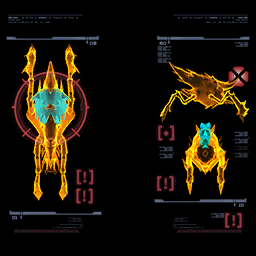 Phazon Hopper
Temporary scan
Morphology: Phazon Hopper
Covered with crystallized Phazon. Spits venom from a distance.
Logbook entry
Phazon Hoppers are more resilient than other Hoppers, but can still be damaged by standard weaponry. The crystallized Phazon covering their bodies provides additional protection from attack. Like other Hoppers, these are capable of long-range assaults. They will spit bursts of Phazon venom at prey from a distance.
Logbook entry (Japanese)
[
]

Warning: Fan Translation(s) Ahead
---
This article, section, or file contains text that is unofficially translated by Metroid fans. Some information (such as proper English names of characters or items) may not be accurate. If an official translation becomes available, the fan translation(s) may be replaced.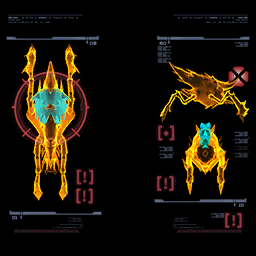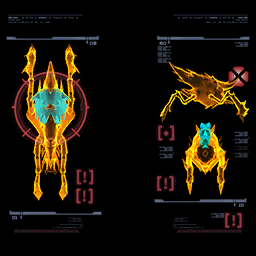 Phazon Hopper
Temporary scan
Phazon Life Form: Phazon Hopper
A mutant species of Phazon Metroid.
In close combat, it rams with a hard, sharp-thorned outer shell, and in long-range combat, it fires liquid Phazon.
Logbook entry
A Phazon Metroid further mutates, giving birth to an arthropod.
Losing its traditional flight ability, it instead gained a Phazite crystal shell and strong limbs. It rams with its thorn-covered outer shell in close-range combat, and in a long-range battle, it spits out Phazon liquid from its mouth to attack.
Due to the effect of mutation, attack resistance is greatly increased. Even to cold energy, it has acquired a certain level of resistance.
Trivia
[
]
Phazon Hoppers make a sound somewhat resembling the bark of a dog.
Gallery
[
]
Notes and References
[
]