"Chozo script translated."
---
This article's name is an unofficial translation from official Japanese media and may not represent the canonical English name, if one exists.
An alternate name from an official source may be required.

"What's the matter? All I said was that Komaytos look like little Metr—"

---
Non-canon warning
:
This article or section contains information that may not be considered an official part of the
Metroid series
in the overall storyline by
Nintendo
.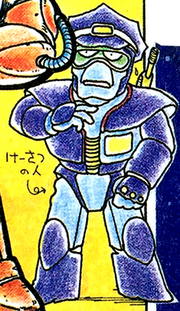 The Police-Man (けーさつの人?) is a minor character featured in The Shape of Happiness, a comic anthology with three short Metroid stories. He wears a robotic suit, or "uniform", similar to the design of the Power Suit at the time.
He appears briefly in the first story at Galactic Federation Headquarters, where Samus is receiving her Zero Mission orders. He makes the mistake of standing too close behind Samus, who is startled and shoots at him by accident. Samus is embarrassed at what she has done, but the Federation official hiring her for the mission is impressed by her prowess. However, the official's offers of a suitable bounty, as well as the Famicom cartridges of Zelda II: The Adventure of Link and Kid Icarus do not get a response from Samus; the Police-Man states that Samus "ran out of energy", and the official collapses in frustration.
Community content is available under
CC-BY-SA
unless otherwise noted.