The Sacred Bridge is a room in the Temple Grounds. It appears in Metroid Prime 2: Echoes.
Description
[
]
Samus finds a deceased Federation Marine named PFC E. Denys and his personal log here. At the entrance of the room are two tunnels leading downwards. One is blocked by the body of the trooper, the other leads to the bottom of the room. A scan terminal is located forwards of the tunnels and up on a ledge. This terminal controls a Kinetic Orb Cannon that will fire metallic spheres to the ledge.
Samus cannot go through the room the other way without activating the control units using the Seeker Missiles and Dark Visor in tandem.
The Dark Aether equivalent of this room is Phazon Pit.
Connecting rooms
[
]
Inhabitants
[
]
Scans
[
]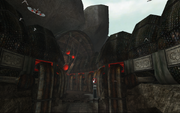 * Note: text is center-aligned in scan, unlike the others which are left-aligned.